New News
The breast cancer home-testing kit inspired by a dog's nose
A device that could save lives by improving breast cancer tests owes part of its success to the humble dog
Man's best friend has proven to be a loyal ally once again, this time in the fight against breast cancer. The humble dog is the inspiration behind a new device that provides affordable, painless, and non-invasive breast cancer testing.
However, most of the credit for the home test kit should go to Spanish engineer Judit Giró Benet (pictured above), who invented it. The blue box uses artificial intelligence that mimics a dog's nose to analyze urine samples and identify biomarkers of breast cancer.
The dogs were first credited with detecting cancer in 1989, when a canine was observed to show unusual interest in a mole growing on its owner's leg. The mole turned out to be cancerous.
"This event demonstrated that cancer causes metabolic changes, altering the body's taste," Benet said. "And so we mimic the dog's sensory system in AI-based software."
Benet decided to focus on breast cancer testing after coming across a study from the Catalan Health Department, which found that 41 percent of women skipped mammograms because they found them too painful. Later, Benet's mission became more intense when her mother was diagnosed with breast cancer.
"That continued to make it even more meaningful to carry out this project," Benet said.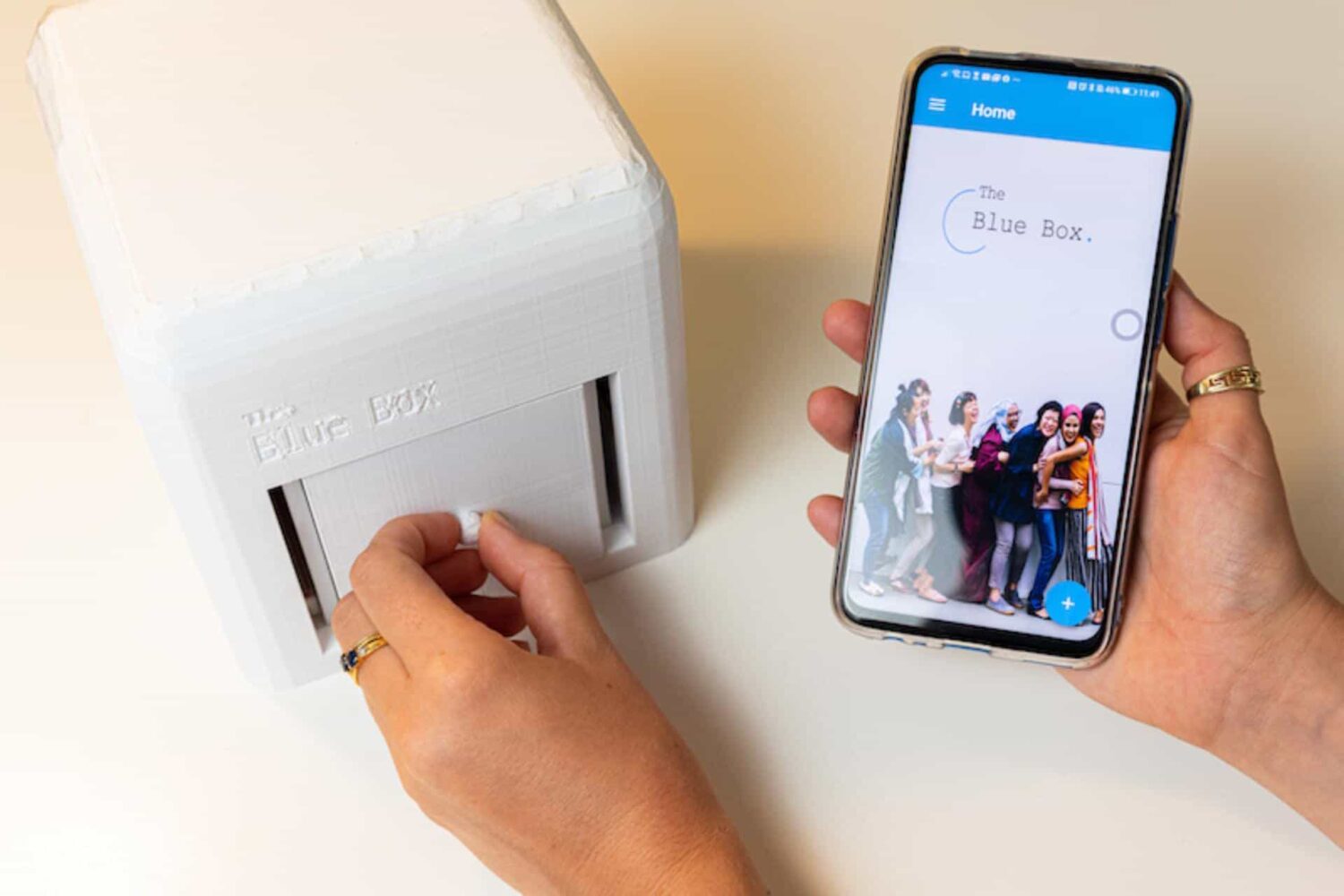 In the first few tests, the blue box gave an accurate reading more than 95 percent of the time. Image: James Dyson Award
Blue Box is easy to use; all women have to do is place a urine sample inside the device and wait for the result to be sent to them via their smartphone.
"Every second that urine is inside the Blue Box, it sends a signal to the cloud, where our artificial intelligence algorithm is housed," Benet explained. "Then the signal will go back to the phone for the user to get a result."
In early trials, Blue Box gave an accurate reading more than 95 percent of the time, offering the potential for earlier diagnoses and better patient outcomes. Now larger trials are needed.
Benet says that the more people use Blue Boxes, the smarter the software becomes.
"Every time someone undergoes an evaluation, [they] I would be feeding this artificial intelligence algorithm with new data, "he said. "So, you are helping the next women who will come after you have a better diagnosis."
We mimic the dog's sensory system in AI-based software
Breast cancer is the most common form of cancer among women and despite advances in medicine the number of people dying from it is increasing. However, the Benet device could lead to earlier diagnoses and therefore better outcomes for patients.
The potential of the Blue Box to increase cancer survival rates was recognized in 2020 James Dyson Award, which awarded Benet top prize and £ 30,000 to develop his invention.
"What we dream of is a world in which every home has one of these blue boxes that give all women the possibility of getting screened at home, giving them the power to own their own health," said Benet . "If the Blue Box can go to market, it can empower all women in the world."
Rewarding ingenuity: the James Dyson award
The annual James Dyson Award is an international competition that celebrates and rewards designers of problem solving ideas. For the first time last year, the award had a separate category for sustainable inventions, a welcome, albeit delayed, recognition of the climate emergency.
The sustainability category was won by Carvey Ehren Maigue (pictured below), an engineering student at the University of Mapúa in the Philippines. Maigue developed a technique for turning rotten vegetables into a plastic-like material that converts ultraviolet light into electricity. Its innovation can be attached to buildings and is effective even in shady areas, because it can capture ultraviolet rays that bounce off other structures.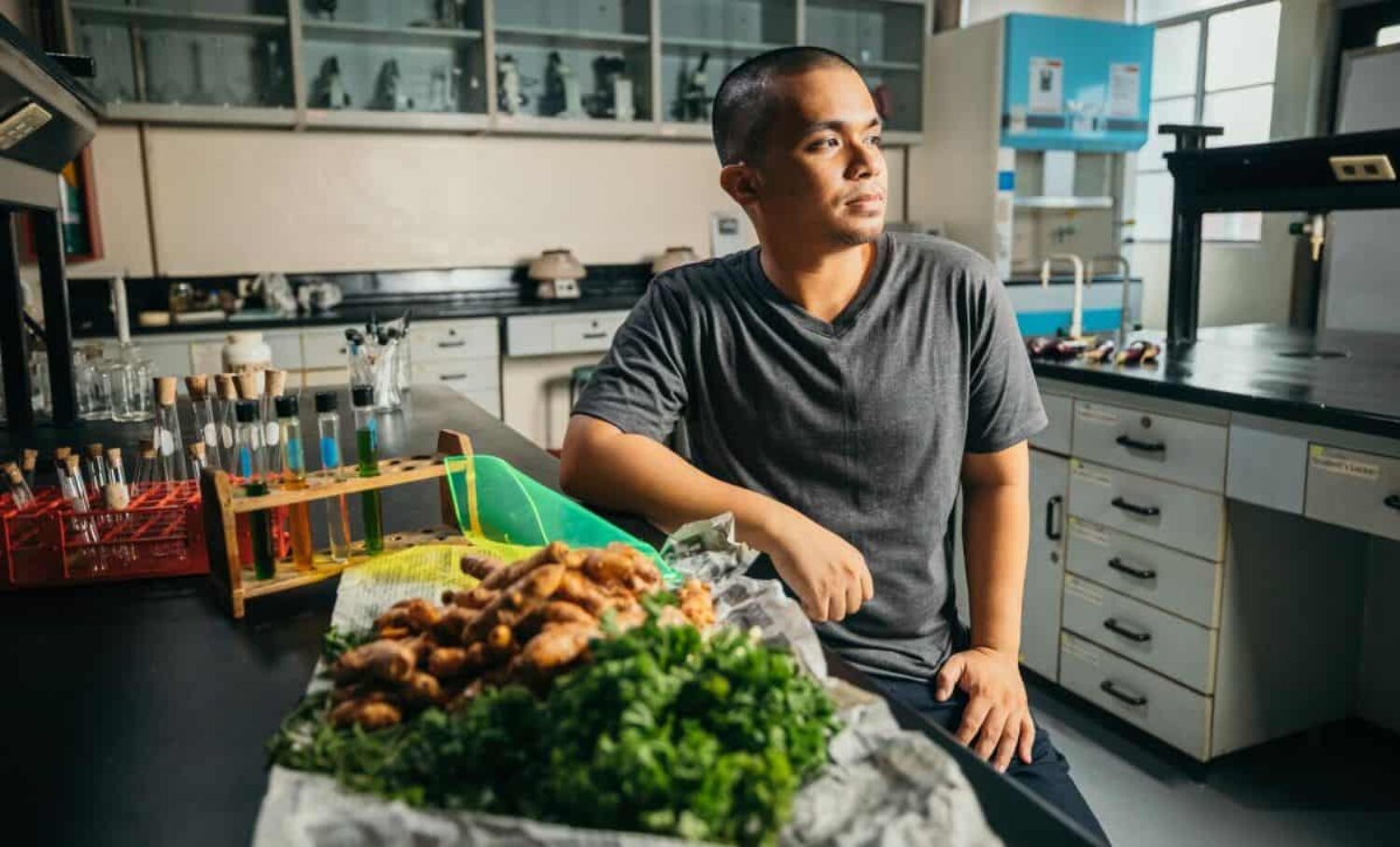 Maigue turned rotten vegetables into a material that converts ultraviolet light into electricity. Image: James Dyson Award
Among the runners-up for sustainability was a device that captures tire contamination at its source. Created by the Royal College of Arts in London, the car-mounted contraption captures 60 percent of harmful tire particles in the air.
The particles it fails to catch could potentially be captured by another award-winning device, developed by inventors at the University of Southampton, that captures microplastics out of water.
Main image: Judit Giró Benet with her Blue Box prototype. James Dyson Award