New News
A 'forest' has sprung up in an unlikely location in London – Positive News
The Forest for Change at Somerset House is part of an event designed to highlight solutions to the climate crisis
Traditionally, London's Somerset House has operated a strict no-trees policy. If it had leaves, it was not allowed to enter, those were the rules, as established by the founders of the building.
Yet in what amounts to a notable U-turn, the site has become the unlikely location for a 400-tree forest, which has sprouted in the neoclassical courtyard during the month of June.
The forest is the centerpiece of this year. London Design Biennale. The event seeks to highlight the role that design can play in building a more resilient and inclusive future in a world impacted by climate change and inequality. It runs until June 27.
Es Devlin, the biennial's artistic director, came up with the idea for the forest after learning about Somerset House's no-tree policy.
"When I was first shown Somerset House many years ago, I discovered that the Enlightenment principles upon which the building was conceived specifically prohibited the introduction of trees into the courtyard," he said.
"Of course, the first thing we wanted to do when considering this year's biennale was to counteract this attitude of human dominance over nature by allowing a forest to take over the entire courtyard."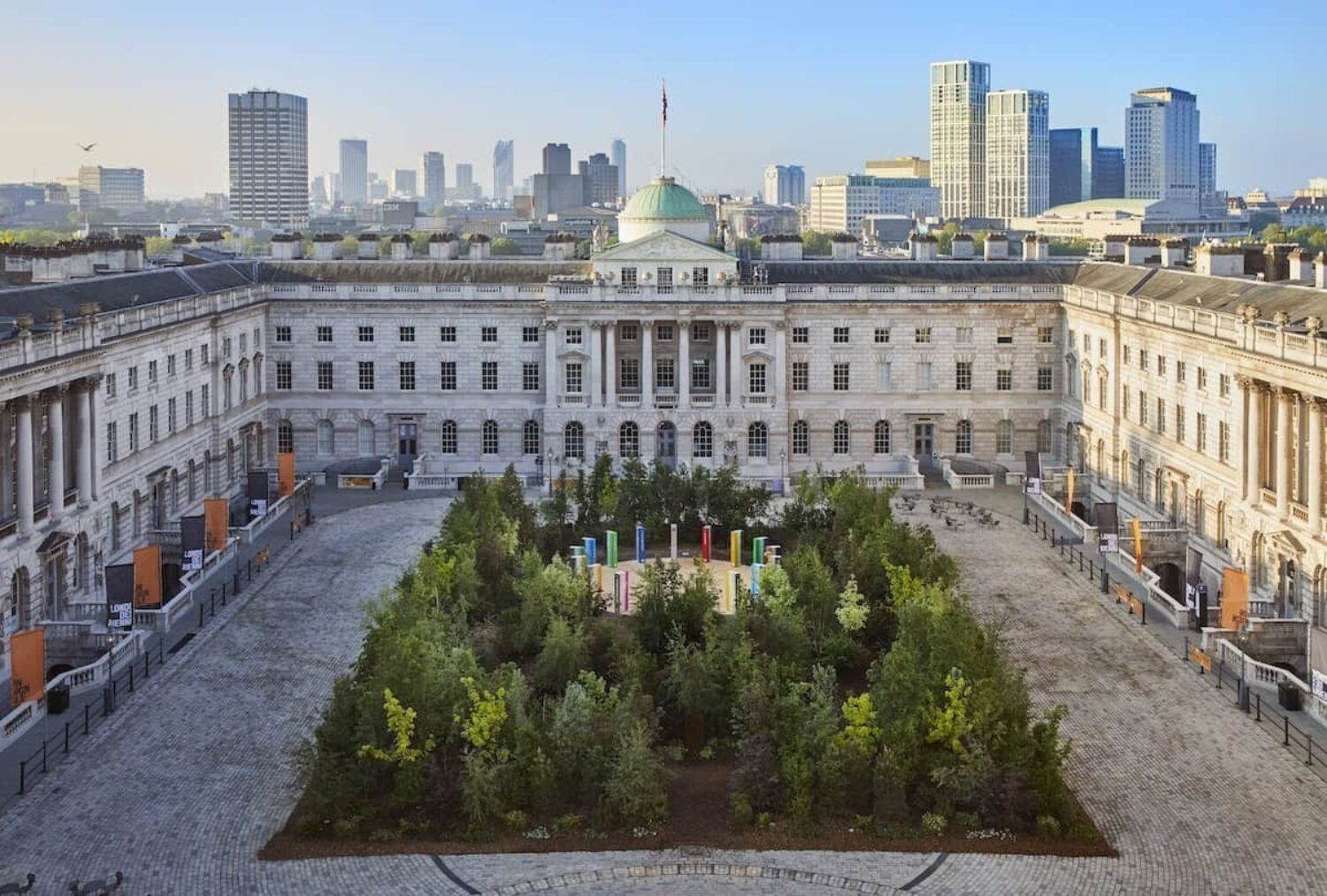 Devlin wanted the forest to be a place of transformation for visitors. Image: Ed Reeve
In literature, Devlin noted, forests are often described as places of transformation: Arden's forest in Shakespeare, the enchanted forests of the Brothers Grimm. She had the same vision for the Forest of Change, which contains a clearing where visitors can learn about the UN's sustainable development goals – global goals that seek to transform the world into a fairer, safer and more sustainable place.
However, it is Design in An Age of Crisis that offers perhaps the greatest scope for inspiration. The exhibition shows possible solutions to pressing global problems, presented by designers from around the world.
Sir John Sorrell CBE, President of the London Design Biennale, said: "Great design ideas can help change things for the better, inspire people and give them hope for the future, never needed more than now. The London Design Biennale will present inspired ideas from around the world in a unique exhibition designed to entertain, inform and provoke action. "
Lead Image: Ed Reeve