Valentine's Day is fast approaching.
And typically, this means waiting until the eleventh hour to buy a gift, praying to the ecommerce gods that it arrives on time, and hoping your special someone likes it. 
Unfortunately, fitness folk are often hard to please. 
We pay attention to what we eat, we have particular preferences for athletic equipment and clothes, and we salivate over obscure supplements and macro-friendly foods.
This year, do yourself a favor and buy one of these seven fitness gifts instead of the usual amourous bric-a-brac—both you and your partner will be better off. 
The 7 Best Fitness Gifts for Valentine's Day
Looking for a quick catalog of what to buy your beloved? Here you go: 
Want more details? Then keep reading!
A Fitness Book
A fitness book may not seem as relevant for Valentine's Day as Pride and Prejudice or The Notebook, but it makes a great gift for a health-conscious significant other.
Brushing up on the best ways to build muscle, get strong, and optimize your health is one of the best ways to build a body you can be proud of—and fitness books are the most efficient way to do this. 
What's more, if you get a good one, it'll be something they can revisit and enjoy time and again (unlike those "love coupons" you were thinking about giving as a gift).
If you're buying for a man, check out Bigger Leaner Stronger, which teaches you everything you need to know to lose fat and build muscle with proper diet and training. 
If you're buying for a woman, check out Thinner Leaner Stronger, which does the same thing except is more geared toward the needs and preferences of women. 
And if you want to buy your partner a book that isn't about getting a flatter belly or bigger biceps, check out this article . . . 
Resistance Bands
A good set of resistance bands aren't only useful for workouts at home or when traveling, they're also great for warming up, stretching, and restraining a consenting adult if the mood strikes you this Valentine's Day (Ba Dum Tss). 
These bands from Draper's Strength are extremely durable, and come in sets of three, four, five, or six bands, which means you'll always be able to find the right band for the job. If you want something with handles for exercises like chest presses, this set of resistance bands from Fitness Insanity is another good option.
Meal Prep Containers
Planning, cooking, and packaging your meals ahead of time ("meal prep," as the cool kids say) is one of the best ways to make sure you hit your macronutrient targets every day.
To do it effectively, though, you need containers that keep your food from spilling or leaking, that can be easily stored, and that are safe to use in the freezer, dishwasher, and microwave.
These meal prep containers from Freshware fit the bill perfectly. They're the right size for healthy, macro-friendly meals, easy to clean, have two separate compartments for keeping your main and side dishes separate, and have a transparent lid that's perfect for attaching "lunchbox love notes," if you're so inclined. 
Read: Meal Prep Made Easy: How to Make the Perfect Meal Prep
Workout Supplements
Looking for some supplements that'll help you gain size and perform better this February fourteenth?
Wait . . . did that make it sound like I'm talking about blue boner pills?
Let me start over . . .
Supplements aren't nearly as important as some people would have you believe. 
That said, picking up a few choice supplements for your better half will help them lose fat and build muscle faster, boost their workout performance and post-workout recovery, and improve their general health and well-being.
Here are some of the most popular options:
Triumph, a sport multivitamin that enhances overall health and performance and alleviates stress, fatigue, and overtraining.
Triton, a high-potency, molecularly distilled fish oil with added vitamin E and lemon oil to prevent oxidation, rancidity, and "fish oil burps."
Genesis, a 100% natural greens supplement that enhances energy levels, immunity, heart and circulatory health, libido, and mood.
The Fat Loss Stack

, which contains three supplements that will help you lose fat faster, preserve muscle and strength, and maximize workout intensity and performance:
Phoenix, a 100% natural fat burning supplement that speeds up your metabolism, and reduces hunger and cravings.
Pulse (with caffeine), a 100% natural pre-workout drink that increases energy levels, improves mood, sharpens mental focus, boosts strength and endurance, and reduces fatigue.
Forge, a 100% natural fat-burning supplement that helps you lose fat faster (and "stubborn" fat in particular), preserve muscle, and maintain training intensity and mental sharpness while cutting. 
As you can see, there's something for everyone here. (Oh, and if your wallet is still feeling a bit slender after the holidays—pay with Sezzle at checkout! It lets you split your entire online purchase into 4 interest-free payments over 6 weeks, with no impact to your credit.)
Massage Gun
What's the best vibrating and pulsating gift you can use on your loved one this Valentine's Day?
A massage gun, of course!
Massage gun therapy is probably about as effective as getting a traditional massage for quickening recovery, improving mobility, and lowering stress levels, but it's a lot more affordable and convenient.
Better yet, if you get one of these for your other half, you'll save yourself the hassle of lavishing them with massage oil and awkwardly pawing at their back while pretending you know what you're doing.
This massage gun from FITINDEX is quiet, light, and has a long-lasting battery, and at just under $100, is well-priced compared to many other massage guns on the market.
That said, if you want to splurge on a higher-end model, check out the Theragun PRO. Not only is the Theragun PRO more powerful, and thus able to reach deeper into muscles than most other massage guns, its ergonomic design makes it more comfortable to use than many other models. Plus it looks cool, and you can't put a price on looking cool. 
Blender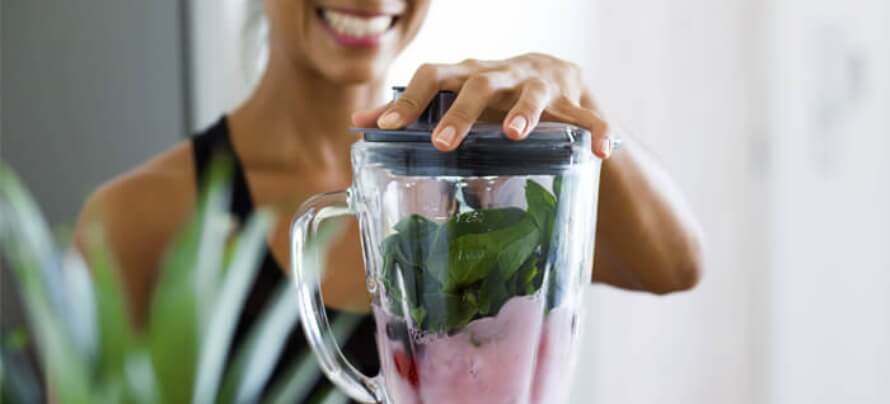 Blenders are like girl (or boy) friends—you don't know what you're missing until you get one, and even if they're occasionally loud and annoying, their benefits outweigh their downsides. 
This is particularly true if you enjoy smoothies, protein shakes, and homemade sauces, which are all made better with the help of a good blender.  
The Ninja Pro Blender is a beast of a blender—it makes light work of ice cubes, frozen bananas, and any other blend-resistant ingredients you have.
Don't let the affordable price tag fool you, either. The Ninja Pro Blender might not have all the bells and whistles of higher-priced blenders, but it's just as good as its competitors at doing what's important—blending.
Weightlifting Shoes
Trick question: what kind of high heels do both men and women enjoy? 
Weightlifting shoes!
If your workouts involve squatting, bench pressing, or overhead pressing, you want to be wearing a pair of weightlifting shoes.
Weightlifting shoes have hard, noncompressible soles that give you a wide, rock-solid, and consistent base to push off of. 
You'll immediately notice the increased stability during your compound exercises when you make the switch, and the 0.5 to 1-inch heel will help you squat deeper while maintaining proper form.
The Adidas Adipower is the best in the game—well designed, sturdy, durable, comfortable, good traction, and great looking . . . what else could you want?
The Bottom Line on the Best Valentine's Gifts for Fitness Lovers
If your significant other is a lover of all things fitness, you're in luck—buying them a gift for Valentine's Day couldn't be easier.
So, show that special someone how much you care with one of the following:
If you liked this article, please share it on Facebook, Twitter, or wherever you like to hang out online! 🙂
What are you going to buy for your beau or belle this Valentine's Day?
If you enjoyed this article, get weekly updates. It's
free

.
Sending…
Great! You're subscribed.
100% Privacy. We don't rent or share our email lists.